Developing speed and agility in young athletes doesn't have to be as complicated or technical as you may believe.
In fact, by the time you finish reading this page, you'll understand just how easy it can be for you to get better results for your athletes….in less time.
And make them stick.
Imagine the last training session you ran for your athletes:
They probably didn't showcase highly skilled, blue chip, 5 star ability, did they?
Sure some of them might be talented. But for the most part, they're regular kids. Kids who aren't too strong. Kids who aren't too flexible. Kids who aren't too coordinated. Kids who, before they met you, had never been taught how to accelerate, decelerate or change directions correctly, if at all.
Kids who simply can't FEEL what you SEE them doing wrong.
If you want to make them quicker and faster, you don't have to reinvent the wheel, you just need to understand a few fundamentals. Fundamentals that Linear Speed Expert Latif Thomas and Multi-Directional Speed & Agility Expert Dave Jack want to share with you.
Combining almost four decades of coaching and athletic experience, Latif's linear speed and track sprints background combined with Dave's team sport (especially football), clinic and facility background give you the full spectrum of skills and experience, allowing you to cut right through fluff so you can quickly identify problems and offer your athletes solutions during the limited time you have together.
In fact, after Latif and Dave presented and taught at the 2011 IYCA International Summit, here is what two attendees had to say:
"Dave Jack is… one of the best coaches I have ever met. Latif Thomas is pretty funny, but this guy knows his stuff, and along with D-Jack is an incredible coach, not just speed coach, but an incredible coach. D-Jack and Latif see coaching on a different level than most people and I came away inspired and re-energized, I couldn't wait to get back in the gym this morning for my first class, and they were a bunch of 3-5year olds. Their passion, enthusiasm, and work must have rubbed off on me this weekend, because usually my preK parents socialize during class, but today they were laughing with the kids, taking pictures, and were totally involved."
- JW
"The speed and agility course with David and Latif was extremely informational, inspiring, and humbling. They are so experienced and knowledgeable and provided us with non-stop information the entire time. Their hands-on approach and set-up with running us through their skills and coaching cues, as if we were their athletes, made it so much easier to grasp then if it were a lecture format. I left realizing that I have a lot to learn as a coach; but because of their knowledge and inspiration I know that I'm on my way to becoming that much better!"
- Paul "Theo" Theodore
CEO/Trainer, FIT ME UP & Hardcore Training
When you can bring this kind of enthusiasm to your workouts, training sessions and business, it rubs off on your clients and their parents. More people will seek you out not just because you get results, but because your athletes want to spend time with you.
And that is the fastest way to grow your reputation and your business.
Carrying the backing of a Youth Speed Specialist Certification from the International Youth Conditioning Association only cements your reputation as THE speed and agility expert to train with in your local market. Because this course will show you step by step how to teach the skills of speed, agility and coordination whether you're working with high energy 6 year olds, 11 year old soccer players or 18 year old football players.
And everyone in between!
Speed is King!
When it comes to training athletes, speed is KING. And if you're going to expand your name, your business or your program to the level you deserve, you must be able to show you can get results in a fun, positive atmosphere.
Your athletes will leave your sessions feeling like they've learned skills that they can take directly to their competitions. And you have a limited amount of time to get this done. Because if you don't, those athletes will find someone else who can. And no amount of fancy marketing will keep your programs full if that other coach at that other program knows the secrets that you're not teaching.
You have a passion for working with athletes. You put your time into learning, coaching and growing your business. And you have a right to earn a good living teaching the skills that all athletes need to learn and are willing to pay for.
How many times have you put an athlete through a drill, known their technique was awful, but just didn't have the depth of knowledge to fix it? Sure you probably changed the drill to mask the problem and made up some smart sounding feedback that sounded good to the athlete, but you know you were bluffing.
And here's a truth that's really going to throw you for a loop:
Your athletes are making mistakes right now that you can't even see. And they're manifesting on the athletic field with every team practice and competition.
Right or wrong parents and athletes are impatient. If they don't feel like you're fixing the problem, they're going to look for someone who will. Right or wrong, as you know, that's the world of youth sports.
Here's the good news:
The solutions are right in front of you and so much easier than you can imagine.
You can put a permanent end to that fear and frustration. Because the IYCA Youth Speed & Agility Specialist Certification Course shows you the skills you need to know and teach, step by step and demonstrates them being taught to real world athletes in live training sessions.
It's not an inventory of drills. Because drills by themselves don't teach speed.
Instead, Latif and Dave show you the skill progressions they've refined over years of teaching thousands of athletes of every age and sport.
Latif Thomas

USA Track & Field Level II & USTFCCCA Even Specialist (Sprints)
All East Sprinter (UConn)
2005 MA State Track Coaches Association – Coach of the Year
Creator of Acclaimed Complete Speed Training and Complete Speed Training Vol. 2
National Level Speaker on Speed and Power Development
Coached MA #1 All Time – Girls 4x100m Relay

David Jack

Fitness & Wellness Director for Teamworks Centers in Acton, MA
NCAA Division I-AA All American (Central Connecticut State)
Advisor to Reebok International, regular contributor and national advisor to Rodale Inc, Men's Health, Women's Health, Boston Celtics' Captain Paul Pierce and his Truth on Health Foundation
National Level Speaker on Sports Performance, Fitness and Wellness
Co-founder of "Sports and Life," a wellness curriculum for schools
They have been where you want to be. They're doing what you want to do.
And, along with Dr. Toby Brooks, they've developed a one-of-a-kind certification course with the specific intention of teaching you what you need to know to start making lasting improvements right away. In fact, as you'll see below, we guarantee this certification changes your coaching career for the better.
We're so confident in this program and how easy it is for you to implement with your athletes immediately, we'll fully refund your investment if you disagree.
Think of developing speed and agility like making a delicious meal.
The only problem is you've got a busy schedule. You might not have the time to go to culinary school and become a chef before you can ever cook that meal.
What you need is recipes.
And that's what the 9 DVDs in the IYCA Youth Speed Specialist Course give you. Specific recipes proven to make a variety of delicious meals every athlete wants to eat and every parent will pay to feed them.
Of course this is a certification course. To continue to make the IYCA a brand people trust, you're going to have to understand 'WHY' you're doing what you're doing. Dr. Toby Brooks built a curriculum in the manual that serves as a foundation for all the skills you'll teach, lays out the skills and drills with full detail, photos and coaching instructions, provides sample programs for 6-9, 10-13, 14+ and ties the videos together with a comprehensive coaching manual that will give you a whole new perspective and foundation for creating effective speed and agility programs for every population of athlete.
When you invest in yourself by becoming an IYCA Level I Certified Youth Speed Specialist, you will develop better athletes in less time and with less trial and error.
The energy, positivity and excitement you create will spread like a wild fire and attract to you more clients, a greater reputation and more resolve to grow and expand your business and programs to help even more young athletes. The momentum you generate by taking action fuels itself to greater successes.
In the words of Johann Wolfgang von Goethe,
"At the moment of commitment, the universe conspires to assist you."
That commitment and assistance starts when you take action by ordering your IYCA Youth Speed & Agility Specialist Certification Course right now.
Youth Speed Specialist (YSAS) Certification Course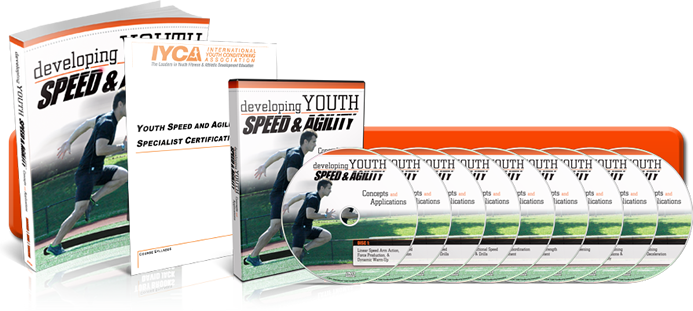 The International Youth Conditioning Association (IYCA) Level I Youth Speed & Agility Specialist Course is the most comprehensive and current speed and agility Certification Program you'll find anywhere.
It contains 9 DVDs packed with practical skill development and progressions for all the components of developing speed and agility in athletes 6 – 18 years old.
Here are the DVD components of the Youth Speed & Agility Specialist Course:
Disc 1 – Linear Speed Arm Action, Force Production, & Dynamic Warm-up
Disc 2 – Linear Speed Acceleration
Disc 3 – Linear Speed Skills & Drills
Disc 4 – Multi-Directional Speed Patterns & Drills
Disc 5 – Speed & Coordination Development
Disc 6 – Speed & Strength Development
Disc 7 – Speed Screening
Disc 8 – Speed Training Progressions & Mobility
Disc 9 – Speed Training Skills and Deceleration
In addition to the support DVDs, your Certification Course contains a detailed textbook (Concepts and Application of Youth Speed & Agility Development) weighing in at over 240 pages and containing over 100 live action photos.
Here is your course curriculum:
Chapter 1: Fundamentals of Speed & Agility

Discover the basics of speed and agility critical for success in the developing athlete
Chapter 2: Core Concepts of Athletic Development: The IYCA Model

Learn the fundamental differences unique to the growing athlete and the approach suggested by the IYCA for optimum results
Chapter 3: Warm-Up and Flexibility

Identify the importance of adequate pre-participation activity and mobility to overall athletic success
Chapter 4: Coaching Speed & Agility

Explore the unique aspects of coaching athletes to become faster and more agile
Chapter 5: Acceleration and Deceleration

Learn to teach young athletes how to stop safely and effectively to prevent injury and accelerate rapidly for game-breaking performance
Chapter 6: Agility and Multi-Directional Speed

Discover the techniques and cues necessary to help young athletes develop elusiveness and quick feet
Chapter 7: Sample Programming

Examples "from-the-trenches" for athletes from various sports and developmental levels
Chapter 8: Selected Exercise Descriptions

Detailed descriptions of how to set-up and perform some of the less commonly used drills and skills mentioned within the text
Examination:
The YSAS Examination is administered electronically through our CourseWebs Course Management System. The exam consists of 75 questions randomly drawn from a database of over 125 questions over the content of the course. Questions are further divided by category as follows:
Core concepts of athletic development: The IYCA model: 10 questions
Warm-up and flexibility: 10 questions
Coaching speed and agility: 13 questions
Acceleration and deceleration: 12 questions
Agility and multi-directional speed: 12 questions
Practical applications: 8 questions
Fundamentals of Speed and Agility – 10 questions
In order to receive your YSAS Certification, you must achieve a minimum score of 70% on the examination.
Limited Time Bonuses
BONUS #1: 'Closed Door' Speed & Agility Seminar (Videos)
After the 2011 IYCA International Summit ended, Latif and Dave led a select group of coaches through a private, hands on coaching seminar covering their most up-to-the-minute training strategies and techniques.
Only a small number of coaches had the opportunity to participate in this event. But when you order, you'll get the videos of that exclusive event, absolutely free.
BONUS #2: How To Make Money With Your YSAS Running Speed Camps
Speed camps and clinics are a proven way to generate profits and new clients, especially now that you have the backing of the IYCA – YSAS Certification.
Business guru Pat Rigsby shows you the specific strategies you can use to leverage your status, experience and expertise into profitable speed camps and clinics.
This Bonus alone will bring you a return many times your investment. And it's yours when you order now.
As you can see, we left no stone unturned when designing a curriculum that would give you a solid foundation for developing the fastest and most agile athletes in your area.
Our Guarantee to You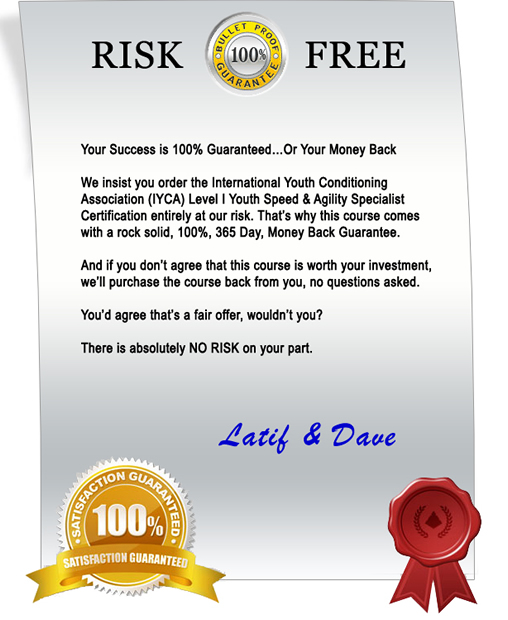 When you're ready to become a better coach and provide a better experience for your athletes, make the next step in your coaching career and become an IYCA Certified Youth Speed & Agility Specialist.
Begin now.
Dedicated to your success,
Latif Thomas & Dave Jack
P.S. The International Youth Conditioning Association (IYCA) Level I Youth Speed & Agility Specialist Course is the most comprehensive and current speed and agility Certification Program you'll find anywhere. Take your clients and athletes to the next level using your new found speed knowledge while you take over your local market. Grab your Youth Speed & Agility Specialist Course Now
P.P.S. Our mission is to give you all the tools you need to succeed. If you don't feel we did, we'll refund you for the full purchase price. No hassle, no questions asked. All the risk is on us. You have nothing to lose.